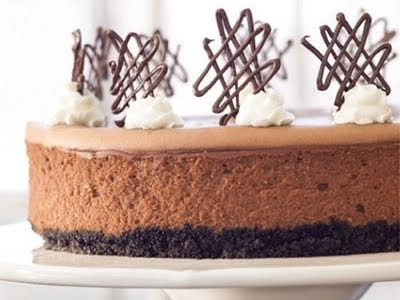 Preparation time : 70 mins + Refrigeration time | Serves 8 persons
This chocolate caramel cheesecake is the most tempting dessert for chocolate lovers. Though it requires little more efforts and technique compare to other cheesecakes but in the end it would be a great cake.
Ingredients:
Crust:
1 1/2 cups (5 ounces) finely ground chocolate wafers
5 tbsp unsalted butter (melted)
1/3 cup sugar
1/8 tsp salt
Cake:
1 cup sugar
3/4 cup heavy cream
8 oz bittersweet chocolate
1/2 cup sour cream
8 oz cream cheese, softened
4 eggs
1 tsp vanilla
Procedure:
1. In a mixing bowl combine crust ingredients and mixes well.
2. Put he mixture in the greased spring form baking pan and press it at base of the pan so that a layer would form. Place the pan in fridge to chill for an hour.
3. Preheat oven to 350 degrees F.
4. To prepare caramel, cook sugar in a saucepan on low heat, stirring slowly until all the sugar crystals melt and become golden in color. It would take 5-8 mins.
5. Remove the pan from heat and gradually add heavy cream, the caramel starts to thick. Cook the mixture on medium heat, until caramel and cream mixes evenly.
6. Switch off the flame and add chocolate to the mixture and mix until becomes smooth.
7. After that add sour cream and cream cheese and beat using electric beater until fluffy (it is better if you beat cream cheese and sour cream together in another bowl then mix in the hot mixture)
8. Now add eggs one by one and beat, then add vanilla and beat at slow speed until all of the ingredients are mix together
9. Pour the batter over the crust and bake for at least 55 mins or until the cake become set perfectly (check by using tooth pick).
10. when the cake becomes ready let it cool to room temperature then unlock the spring form pan to take out the sides of the pan and then chill for at least 2 hrs.