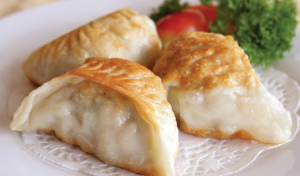 Preparation time : 30 mins. | Serves 12-16 dumplings
This Beef Dumpling Recipe is prepared by frying method but in very little oil. The stuffing of ground beef is very simple and easy. You can also steam the dumplings instead of frying it. These dumplings can be served with any dumpling sauce or even ketchup.
Ingredients:
12-16 dumpling wraps
1 lb leaned ground beef
4 cloves garlic
1 medium carrot (chopped)
1 medium onion (chopped)
½ bunch fresh parsley
2 green chilies (chopped)
1 tbsp flour
1 tbsp corn flour
1 egg
Salt and pepper to taste
Egg white for brushing
1-2 tbsp oil for frying
Procedure:
1. Process together ground beef, garlic, carrot, onion, parsley and green chilies in food processor until become smooth.
2. Then add flour, corn flour, egg and seasoning of salt and pepper and give few pulses to mix them well.
3. Take a dumpling wrap, put 1-2 tbsp of prepared ground beef mixture into the center . Apply egg white at the corners of the wrap, cover the stuffing by joining the two opposite corners to make triangle shape, then bring the two corners to the center so that they overlap each other and stick using egg white. Similarly prepare rest of the dumplings
4. Heat 1 tbsp of oil in the frying pan, sear the dumplings in the pan for 2-3 mins. each side. It is better to cover the pan while frying so that meat mixture cooks well, turn while frying. When the dumpling becomes light golden from both sides then take them out from pan.
5. Serve the hot dumpling with your favorite dumpling sauce.
photo source : 1