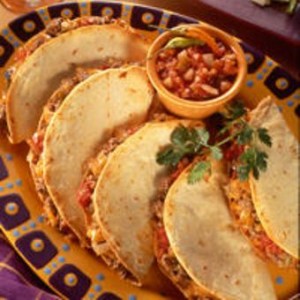 Preparation time 25 min. | Serves 10-12 tortillas
This beef quesadillas recipe is prepared with chunky salsa and green chilies thus become spicy in taste. If you don't make the quesadillas spicy you may add chopped capsicum in place of green chilies but gives good taste only with chilies.
Ingredients:
1 lb ground beef (leaned)
1 tsp ginger (minced)
1 medium onion (chopped)
½ tsp salt
¾ cup chunky salsa
4 oz green chilies (chopped)
2 cup shredded cheddar cheese
10-12 medium flour tortillas
2-3 tbsp oil
Procedure:
1. Preheat oven to 450°F.
2. In a skillet sauté onions in 1 tbsp of oil for just a minute. Then add ground beef and ginger and cook over medium heat until beef would get dry and turn into brown color.
3. Add salt and mix well. Remove the skillet from heat and mix it remaining ingredients including salsa, chilies and cheese.
4. Take a piece of tortilla spoon 1-2 tbsp of beef mixture at one side and wrap it with other side to cover and then place it on a baking tray. Prepare remaining tortillas in the same fashion.
5. Pour oil on top of each tortilla and then place the tortilla tray in preheated oven for just 10 min. until become light golden from top.
photo source : 1