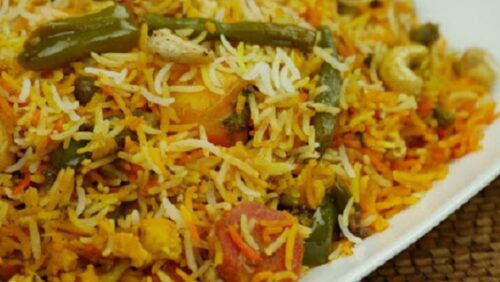 Preparation time: 90 mins. | Serve 8-10 persons
This Bombay Biryani Recipe is a very famous spicy meat rice from South Asian cuisine. Like other biryani, you can also prepare this recipe with other meat also like mutton or chicken. The taste of this rice is a bit sour, salty, and spicy due to the addition of an extra spice mix. However, if you like some mild flavor then you can omit this extra spice.
Ingredients:
For Beef Curry:
2.5 lb beef (brisket cut into 1-inch cubes)
2 cup oil
2 tbsp ginger paste
2 tbsp garlic paste
5-6 large tomatoes (chopped)
Salt to taste
1 tsp red chili powder
1 tsp crushed red chili
1 tsp turmeric powder
2 tsp roasted ground cumin
1 tsp ground coriander
2 cups crispy fried onion
1 tbsp garam masala / hot mix spice
½ tsp nutmeg and mace powder
1 cup yogurt
4-6 large russet potatoes (peeled and cut quartered)
For Rice:
5 cups long grain or brown rice (soaked in water for an hour)
4-6 cloves
2-star anise
2 cinnamon sticks
1 tsp black peppercorns
1 tsp cumin
2 bay leaves
3 green cardamoms
2 black cardamoms
Salt to taste
Water as required
For Extra Spice mix:
3-4 roasted cloves
2 roasted cinnamon sticks
1-star anise
1 tsp roasted coriander seeds
1 tsp roasted cumin
4-6 roasted whole-round red chilies
½ tsp roasted fennel seeds
¼ tsp citric acid
For Assembling:
Prepared beef curry
Prepared rice
2 tbsp prepared extra spice mix
1 bunch of fresh coriander leaves (chopped)
8-10 medium green chilies
½ bunch of fresh mint leaves (chopped)
8-10 dried plums (rinsed thoroughly)
Pinch of yellow color (dissolve in ¼ cup milk)
Procedure:
1. Heat 1½ cup oil in a saucepan, add ginger garlic paste and beef pieces and cook over medium-high flame for 2-3 mins. or until beef starts to turn a brown color.
2. Add tomatoes, red chili powder, crushed red chili, coriander, cumin, turmeric, and salt and stir well to mix. Cover and simmer for 15 mins. until tomatoes become soft.
3. When oil appears on the surface, add enough water to cook the beef thoroughly and simmer for 40-50 mins. until the beef gets tender.
4. Meanwhile boil the rice, for that you need to boil around 10 cups of water along with all the whole spices mentioned for the preparation of rice.
5. When water starts bubbling, add rice and check the water level it should be 1 inch higher than the rice level if that is not enough then add hot water. Cook the rice until the water again starts to boil it would take 8-10 mins.
6. Check when the rice is ¾ done drain all the excess water and keep the rice in the strainer or colander.
7. After that crush fried onions using your hands and add them to the beef mixture along with yogurt, garam masala and nutmeg, and mace powder. Mix well and simmer again for 5 mins.
8. Meanwhile prepare extra spice mix, for that, you need to grind all its ingredients mentioned above until become coarsely ground.
9. When the gravy gets thick and oil appears on top remove the pan from heat and set aside.
10. In a wok, heat the remaining half cup oil in a pan, add potatoes with some salt, and fry over medium heat for 1-2 mins, then add ¼ cup water and simmer for 10 mins. until become soft.
11. Now starts assembling the biryani, for that you need to take a deep wide saucepan, spoon some gravy at the base, then spread 1/3 quantity of the cooked rice, then spread half of the beef curry and potatoes, sprinkle half of the coriander and mint leaves, green chilies, dried plums and 1 tbsp of the prepared extra spice mix. Cover again with 1/3 quantity of rice and repeat the pattern of the layers with remaining beef curry, potatoes, coriander and mint leaves, dried plums, and extra spice.
12. Cover the top with remaining rice and sprinkle the milk and yellow color mixture in the center, cover that pan with the lid tightly and cook over high heat for 5 mins. or until steam appears on top, then reduce the heat to very low and cook for 15-20 mins. more until all flavors combine well and the rice cooks completely.
13. After that mix the layers of rice carefully using a wooden spatula and serve immediately with yogurt sauce and salad.
photo source : 1