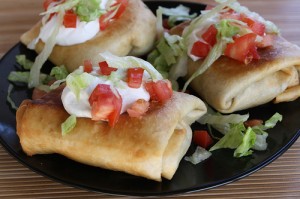 Preparation time : 90 min. | Serves 4 persons
This chimichangas recipe is from Mexican cuisine in which chili Beef is used in filling. These chimichangas are served with a dip prepared with Mexican salsa and sour cream, you may also serve these dip individual without mixing together.
Ingredients:
For Chimichangas:
4 tortillas
4 tbsp Mexican salsa
4 tbsp sour cream
¼ cup cheddar cheese (grated)
¼ cup spring onion (chopped)
For Chili Beef:
1 lb lean ground beef
½ can tomato juice
2 cup tomato sauce
¾ cup chopped onion
¼ cup chopped celery
¼ cup chopped green bell pepper
2 tbsp chili powder
1 tsp ground cumin
¾ tsp garlic powder
Salt to taste
¼ tsp ground black pepper
¼ tsp dried oregano
¼ tsp sugar
Pinch of ground cayenne pepper
1 cup canned red beans (drained and rinsed)
Procedure:
For Chili Beef:
1. Cook ground beef in a wok until all the water from the beef would have been dried and meat becomes crumble.
2. Now add all the ingredients to the crumble beef and let it boil at medium heat. After that reduce the flame to low and simmer for 60 min or until become dry. Stir in between so that mixture would not stick to the pan.
3. When would get dry remove the pan from heat and set aside.
For Chimichangas:
1. Spread the tortilla roll on a flat surface and put 2-3 tbsp of beef chili in the center.
2. Top it with spring onions and cheddar cheese and wrap from one side to other so that it completely seals from every side.
3. Heat oil in wok and deep fry the chimichangas until become light golden in color.
4. To make dip for the chimichangas mix together salsa and sour cream and serve with hot chimichangas.
photo source : 1