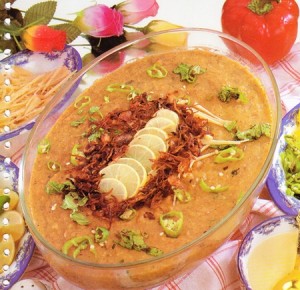 Preparation time : 3 hrs. (approx.) | Serves 3 large bowls
Haleem is very famous street food of South Asia and also prepared at home at special occasions. Its a complete meal full of proteins, carbohydrates and other essential nutrients. It main ingredients are mixture of some grains and meat in proper ratio. Its also a bit spicy in taste. Haleem is usually garnished with specific seasonings before being served.
Ingredients:
For Korma:
1 kg beef (boneless small pieces of under cut)
3 tbsp ginger garlic paste
1 cup yogurt
2 cup caramelized onions
3 cinnamon sticks
6 cloves
6 green cardamoms
2 bay leaves
3 black cardamoms
2 star nuts
Salt to taste
2 tbsp red chili powder
1/2 tbsp turmeric powder
1/2 tsp nutmeg and mace powder
1/2 cup oil
For Grain Mixture:
750 gm haleem grains mix
2 tbsp ginger garlic paste
1 pack haleem mix masala(spice) – use any brand
For Seasoning:
1 cup crispy fried onions
Ginger (julienne)
Green Chilies (Chopped)
Coriander leaves (Chopped)
Lemon Juice
Procedure:
Preparing Grain Mixture:
1. Soak haleem grain mix in water for 2-3 hours.
2. Heat oil in a large sauce pan, add pack of haleem mix and soaked grains (remove water) and cook over high heat for 5 min then add 10 glass water and cook over high heat till boiling. Then reduce the heat to simmer and let it cook till all the grains tender completely.(Quantity of water may vary according to the size of your pan.)
Preparing Korma:
1. Marinate beef with the ingredients mentioned for korma except oil and leave for 30 min.
2. Heat oil in a heavy sauce pan and add the marinated beef. Cook over high heat for 5 min and stir continuously, then reduce the flame to simmer and cook till beef would get tender. In order to save time cook korma in pressure cooker as beef take longer time to cook.
Preparation of Haleem:
1. Separately blend the cooked lentils and korma using hand blender make sure that ingredients would not blend completely, you just need to slightly blend the grain and meat.
2. Now in a large heavy sauce pan combine both the blended mixtures of grain and meat and add 4-6 glass of water. Cook over medium heat and keep stirring using large wooden spoon.
3. When haleem starts bubbling taste it if you feel is there nay need of spices and salt then add it accordingly and leave it to cook for an hour over slow heat. Throughout this process every ingredient should mix well together and for this you have to stir continuously while cooking so that it may also not stick to the base of pan.
4. After that take out the haleem in serving bowl and serve with the seasoning ingredients.
photo source : 1