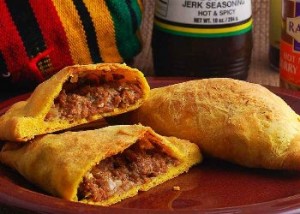 Preparation time : 60 min (approx.) | Serves 10 patties
This Jamaican Beef Patty recipe is one of a spicy recipe form Jamaican Cuisine. It is prepared with lots of spices which are almost present in every kitchen. You can also use readymade pastry dough to save your time.
Ingredients:
For Pastry:
2 cup flour
¼ tsp salt
½ tbsp curry powder
¼ cup shortening
¼ cup margarine
1/3 cup cold water
For Stuffing:
2 tbsp oil
1 small white onion (finely chopped)
¼ tsp scotch bonnet pepper (chopped)
½ lb lean ground beef
½ tsp salt
½ tsp freshly ground black pepper
½ tsp curry powder
½ tsp dried thyme
¼ cup breadcrumbs
¼ cup Beef stock
1 egg (beaten)
¼ cup water


Procedure:
1. To prepare pastry, sift together flour, curry powder and salt into a large bowl.
2. Mix the dry mixture with shortening to make crumble mixture and then add water accordingly to prepare soft dough.
3. After that roll out the dough into slightly thick size and then cut it into 8" circles. Spread wax paper or damp cloth over the circles.
4. Now to prepare stuffing heat oil in a heavy skillet and sauté onion and bonnet pepper for just 2 min until become soft.
5. Add the ground beef, salt, pepper, curry powder and thyme and mix well. Cook the meat gently with the spices until become brown in color, it would take 10-15 min.
6. Add the breadcrumbs and stock and simmer for 15 min until all the excess liquid absorb in the meat.
7. After that uncover the prepared pastry circles and put 2 tbsp on meat stuffing in the center. Wrap the pastry by joining two opposite sides and seal it tightly with fingers or fork.
8. Place the stuffed pastries over the greased baking dish, brush the top with beaten egg and then bake in preheated oven for 30 min at 400 degrees F.
photo source : 1