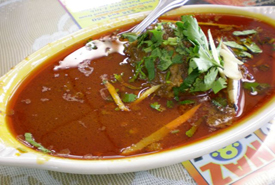 Preparation time : 3 hrs. | Serves 10-12 persons
This special Nihari recipe is one of a favorite Pakistani cuisine which is served with topping of lots of green herbs, chilies and lemon wedges. It gives excellent taste when it is served with traditional naan.
Ingredients:
For Marrow Soup:
1 kg beef marrow bones or Nuli
1 whole onion
1 whole bunch garlic
For Nihari:
2 kg beef boneless shank piece or bong (cut into six pieces)
1¼ cup oil
1 cup sliced onion
½ cup wheat flour (roasted)
1tbsp graham flour or besan (roasted)
2-3 pieces dry ginger or saunth
2 bay leaves
2 tbsp nihari mix spice
1 tbsp fennel or saunf
3-4 start nuts
1 tbsp red chili powder
1 tbsp dry red capsicum powder or deggi mirch
¼ tsp turmeric powder
2 tbsp coriander powder
Salt to taste
2 tbsp ginger garlic paste
Nihari Spice Mix:
1tbsp cloves
1tbsp green cardamom
8 black cardamom
3 tbsp cumin
½ tsp black salt
3 tbsp ground fennel
1 tbsp dry ginger powder
½ tsp nutmeg and mace powder
Procedure:
1. At first prepare soup of bones with 5-6 glass of water, whole garlic and onion. Let it cook till marrow gets tender.
2. Meanwhile in a sauce pan heat oil and fry chopped onions till become golden brown in color. Then add ginger garlic paste, chili powder, salt, turmeric powder, coriander powder and deggi mirch along with beef shank pieces and cook over medium-high heat till become meat color starts to change into brown.
3. Add water to beef so that beef pieces completely dip in the water then make a pouch of muslin or mulmul cloth filled with fennel, star nuts, dry ginger, and bay leaves. Put this pouch in pot of beef and let it bring to boil over high heat then reduce the flame to simmer and cook until meat gets completely tender.
4. When meat is done remove oil from the top of the curry and reserve it for serving and add prepared marrow soup. Let it cook further for 30 min.
5. Dissolve wheat flour and graham flour in ¼ cup water and add it to the curry when curry gets thick reduce the flame add nihari masala mix and cook it for 15 min.
6. Serve the spicy nihari with garnishing of chopped coriander, green chilies, lemon wedges and ginger.
photo source : 1