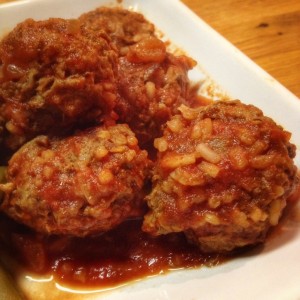 Preparation time : 70 mins. | Serves 16-20 meatballs
This Porcupine Meatballs Recipe is prepared with spiky meatballs simmered in particular tomato sauce. The main ingredient of the meatball is rice which gives the spiky texture to the balls and make it different from other meatballs, hence these are called Porcupine Meatballs.
Ingredients:
For Meatballs:
1 lb beef mince (leaned)
½ cup rice (soaked in water for 15 mins. then dried)
1 onion (grated)
1 carrot (grated)
1 stick celery (thinly sliced)
1 tsp salt or to taste
1 tsp crushed black pepper or to taste
For Sauce:
2 cup beef stock
1 cup tomato soup
½ cup tomato sauce
Salt and pepper to taste
Procedure:
1. In a food processor, processo together, mince meat, onion, carrot and celery and give few pulses to mix well and become smooth.
2. Crushed dried rice using hands only then add it to the food processor along with seasoning of salt and pepper and give 3-4 pulses to mix.
3. Then take out the mixture from the processor bowl and make small balls like normal size of meatballs.
4. Place these balls into the greased casserole dish.
5. Combine beef stock, tomato soup, tomato ketchup and salt pepper seasoning and whisk them t mix.
6. Pour this mixture pver meatballs and place the dish in preheated oven for at least 60 mins. at 325 degrees F or until meatballs cooked well and sauce gets too thick.
7. Porcupine Meatballs are ready to serve with steamed rice or noodles.
photo source : 1