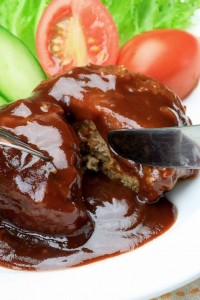 Preparation time : 20 mins. + 5 hrs. in Slow Cooker | Serves 8 steaks
This Salisbury Steak Recipe is prepared in slow cooker. This steak is different from other because it is prepared with its serving sauce. The sauce has both the flavors cream of chicken soup and beef soup which results in a delicious steak sauce.
Ingredients:
2 lb lean ground beef
1 oz dry onion soup mix
½ cup Italian seasoned bread crumbs
¼ cup milk
¼ cup all-purpose flour
2 tbsp vegetable oil
2 can condensed cream of chicken soup
4 tsp beef bouillon
1 tsp soy sauce
¼ tsp garlic powder
Salt and pepper to taste
¾ cup water
Procedure:
1. To make beef patties, combine ground beef, onion soup mix, bread crumbs and milk and mix them well using your hands.
2. Start making patties using a patty maker to give proper shape or you can use 4" size circular cap of a container and make patties. This mixture yield up to 8 patties.
3. Now heat oil in a frying pan for shallow frying. Dust each of the prepared patty with flour and then fry the patties in batches over high heat for 3-4 mins. just to give brown color and slightly crispy texture from both sides.
4. In a mixing bowl prepare a mixture of cream of chicken soup, beef bouillon, soy sauce, garlic powder, salt and pepper with water and set aside.
5. After that, put them into slow cooker in the form of layers.
6. Pour the soup mixture onto the patties, cover the lid and cook it on low setting for 4-5 hrs. or until meat is done.
7. Serve the hot salisbury steak with mashed potatoes, fresh vegetable salad or even eat it alone with its sauce.
photo source : 1