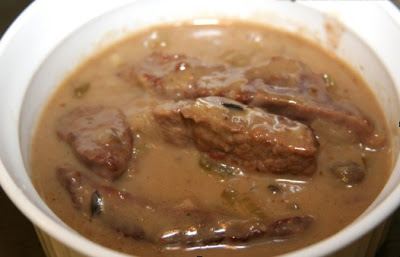 Preparation time : 15 mins + 5 hrs cooking time | Serves 6 persons
This is typical Swiss steak recipe which is not cooked in few minutes, its a slow cook recipe which requires hours to complete and hence the taste of steak would be great. To learn more methods to prepare steaks, refer to the book The New Steak, which contains variety of methods for cooking steaks including sautéing, roasting, broiling, grilling, braising, and wok-frying.

Ingredients :
3/4 cup flour
1 tsp salt
1/2 tsp pepper
1 kg boneless beef round (Spread the piece using meat tenderizer tool)
2 tbsp butter
1/2 cup onion (cut into slices)
400 ml Cream of Mushroom soup
1 cup water
Procedure :
1. In a mixing bowl, mix flour, salt & pepper. Coat beef piece into the flour mixture.
2. Take a frying pan, heat butter and fry beef until become brown from both sides.
3. Now place fried beef onto a sauce pan or slow cooker and put onion slices on it.
4. Mix water in cream of mushroom soup and pour it onto the beef and onion, let the beef to cook with the mushroom sauce for at least 5 hours so that beef becomes completely tender and absorbs all the flavors.