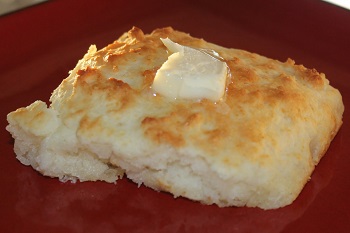 Preparation time: 30 mins. | Yield 10-12 biscuits
The use of lemon-lime soda in the preparation of biscuits makes them extremely light and fluffy. Since these biscuits are prepared by a renowned brand hence they are named as 7-Up Biscuits.
Ingredients:
2 cups all-purpose flour
3 tsp baking powder
½ tsp salt
6 tbsp butter (melted)
½ cup 7-Up
½ cup sour cream
Procedure:
1. Sift together dry ingredients including flour, baking powder, and salt.
2. Add 2 tbsp melted butter and mix thoroughly until soft crumbs are formed.
3. Now add sour cream and mix until well combined.
4. Start pouring 7-up to make a soft smooth dough.
5. Transfer the dough onto the counter and knead a little bit using dust of flour.
6. When the dough is made pliable then make it slightly flat using a rolling pin and then cut it into 2-inch squares.
7. Pour the remaining melted butter into the 9-inch square pan and place the cut biscuits in the pan.
8. Place the pan in preheated oven at 450 degrees F for about 15 mins. or until become golden brown from the top.
9. When biscuits are done, take them out of the oven, cool them to room temperature, and then serve them with tea.
Note:
You can also use ready-made Bisquick mix to make this recipe by eliminating flour, baking powder, salt, and 2 tbsp butter from this recipe.
photo source : 1