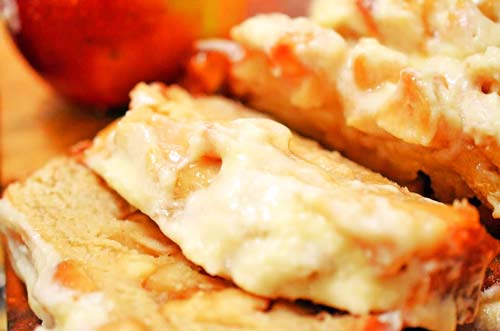 Preparation tiem : 80 mins. | Serves 1 medium loaf
This Apple Fritter Bread Recipe is one of the typical bread that takes a bit longer time to prepare but has an awesome taste. The only technical step is making a stack and then lining these stacks into the loaf pan to make bread. This bread can be served as healthy bread for breakfast.
Ingredients:
For Dough:
3 cup bread flour
1 1/2 tbsp dry active yeast
1/4 tsp salt
1/2 cup brown sugar
1/4 cup water
1 egg beaten
3/4 cup milk
4 tbsp butter
For Filling:
6 apples peeled and diced
2 tbsp lemon juice
1 cup brown sugar
1 tsp vanilla extract
2 tbsp butter
1 tbsp cinnamon ground
2 tbsp cornstarch
For Glaze:
1 tbsp butter softened
1 tsp vanilla extract
3/4 cup powdered sugar
3 tbsp cream
Procedure:
1. To prepare to fill, in a saucepan cook all the ingredients together until the glaze becomes thick and the apples get a little soft. It would take hardly 3-5 mins.
2. In another saucepan, heat milk over medium heat until it blisters then immediately remove from heat add butter and stir well to mix evenly.
3. In a mixing bowl, combine flour, yeast, and brown sugar.
4. In another bowl, whisk together water, egg, milk, and butter.
5. Now combine both the dry and liquid mixture in the stand mixer bowl and start mixing till becomes a perfect dough. It would take around 5-8 mins.
6. Transfer the dough onto the floured surface and roll it to a large rectangular shape.
7. Spread the prepared apple filling over the flattened dough and then using a knife cut the dough into 4-5 inch squares.
8. Take a flattened metallic spatula or scrapper and then carefully place squares onto each other, in such a way that in every stack there are 3-4 slices.
9. Now take a loaf pan, lined with a parchment sheet and grease it properly. Place the stacked squares carefully into the loaf pan to fill it completely.
10. Bake in preheated oven at 350 degrees F for about 40-50 mins. until turns golden brown.
11. Meanwhile prepare the glaze by beating together all the ingredients of the glaze until gets a creamy texture.
12. When the bread is ready, cool it for 15 mins. then remove from the pan and drizzle the prepared glaze on top.
13. Tempting Apple Fritter Bread is now ready to serve after cutting into slices.
photo source : 1