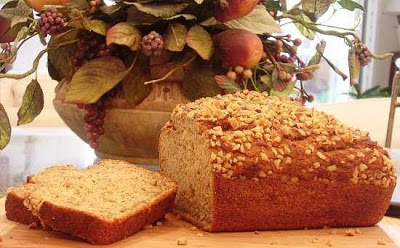 Preparation time :70-75mins | One Medium Loaf
Banana Bread
is more like banana sponge cake. Any other flavored bread can also be made through the same recipe by using pulp of fruits like peach, mango, etc. To learn how to make professional quality loaves of bread of all kinds, refer to the cookbook
The Bread Baker's Apprentice
.
Ingredients:
2 cups all-purpose flour
½ tspn baking soda
½ tspn baking powder
Pinch of salt
½ cup butter softened
¾ cup brown sugar
2 large eggs, beaten
1 tbspn milk
1 tspn cinnamon powder
2 1/3 cups mashed very overripe bananas
Procedure:
1. Mix dry ingredients well; flour, baking powder, baking soda, baking powder, cinnamon powder and salt.
2. Beat butter and brown sugar to make smooth paste.
3. Add eggs one by one so that they mix well.
4. After it add mashed bananas and beat well to make cream like texture.
5. Now mix egg mixture in the flour mixture using wooden spoon just to mix them together.
6. After both mixture blend together, add a tbspn of milk just to make softened banana bread and mix again.
7. Put the mixture in a baking tray to bake in a preheated oven for atleast one hour at 350oF. Check by inserting a toothpick in the bread, if it takes out clean then the banana bread is ready.
Servings:
After your Banana bread cools down to room temperature serve it with icecream or tea. You can also add walnuts, almonds or chocolate chips in the batter.