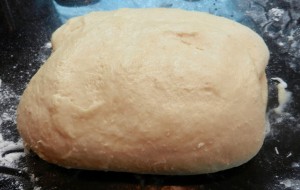 Preparation time: 30 mins. + Dough resting time | Yield 9-inch round bread
This Brioche Dough Recipe is taken from French cuisine. It is very soft and light from the inside due to its comparatively larger proportion of egg and butter. While preparing this dough you will have to be patient as it is set to rest 3 times which is around 7 hrs. and it is the main step that results in the soft texture of the dough.
Ingredients:
¼ cup warm milk (up to 115 degrees F)
1 tbsp honey
1½ tsp active dry yeast
2 large eggs (lightly beaten)
¾ cup all-purpose flour
2 tbsp granulated sugar
½ tsp salt
1 cup plus 2 tbsp bread flour
½ cup unsalted butter (softened)
Procedure:
1. In a small bowl, dissolve honey in warm milk, then add yeast to it and let stand for 5-10 mins. until the mixture gets foamy.
2. Now pour this mixture into the stand mixer bowl and start beating. Add eggs one by one and continue to beat for 2-3 mins.
3. Add all-purpose flour, sugar, and salt, and beat at medium speed until well blended.
4. To make the dough, slowly add bread flour and mix at medium speed to form soft and elastic dough. It would take 5-8 mins.
5. When the dough pulls away from the sides of the bowl, add butter gradually and mix until all the butter blended well with the dough and the dough would become soft.
6. Sprinkle some flour on the counter and place the prepared dough in it, knead it further to make it smooth and form a ball shape. Place this ball into the greased large bowl, cover, and let stand for 2 hrs. at a warm place.
7. When the dough rises to double punch it down to remove the air inside and knead again to make it smooth. Now place it in the fridge for at least 4 hrs.
8. After that dough would become double in size again and then shape it into a ball. Place it either in a loaf pan or springform pan and leave it further for an hour until it rises again to double.
9. The Brioche Dough is now ready. You can make Brioche buns or bread using this dough. It requires 20-30 mins. to bake at 350 degrees F.
photo source : 1