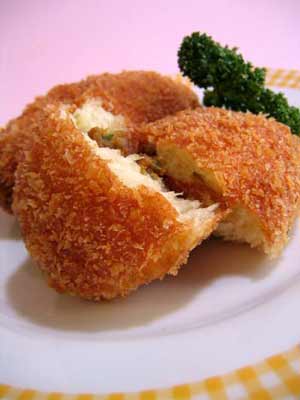 Preparation time: 50 mins. + 1 hr. Dough Resting Time | Serves 12-16 bread
This Curry Bread Recipe is Japanese-style stuffed bread, which is commonly known as Curry Pan or kare Pan. It is prepared in three steps; the first dough is prepared with curry flavor, then stuffing is prepared with beef and some vegetables, and in the end coat with crumbs. The Curry Pan is usually baked but in some recipes, it is prepared by frying method. Here in this recipe baking method is used.
Ingredients:
For Bun
5 cups all-purpose flour
2 tbsp yeast
1 tsp sugar
3 tbsp curry powder
2 tsp baking powder
1 tsp salt
1-2 eggs (lightly beaten)
½ cup butter
For Stuffing:
1 lb ground beef
1 tbsp garlic paste
1 onion (finely chopped)
½ tsp crushed black pepper
3-4 green chilies
1 tsp curry powder
½ bunch of coriander (finely chopped)
1 tbsp lemon juice
1 small capsicum (finely chopped)
1 small carrot (finely chopped)
2-3 tbsp oil
Salt to taste
1-2 eggs (lightly beaten)
Bread Crumbs as required
Butter as required
Procedure:
1. To prepare this curry pan recipe first need to prepare curry buns, for that you need to dissolve yeast and sugar in ¼ cup lukewarm water and set aside for 5 mins. until the solution becomes fluffy.
2. In a mixing bowl, sift together dry ingredients including flour, salt, curry powder, and baking powder.
3. Add butter, eggs, and yeast solution to the dry mixture, and mix well, gradually add a small amount of water until smooth and soft dough would form. You can do this using your hands or a dough mixer.
4. Place the dough into the deep bowl, cover the bowl with plastic, and keep it in a warm place for an hour or until it rises to double.
5. After that punch down the dough and divide it into small balls of 2-inch size. Place them on a baking tray and set aside for 20-30 mins.
6. Meanwhile prepare stuffing for the curry pan, in a saucepan heat oil and sauté onion in it for just 1-2 mins.
7. Then add garlic and ground beef, and cook for 3-5 mins. over high heat until beef turns brown.
8. Now, add the remaining ingredients including capsicum, carrot, black pepper, green chilies, curry powder, coriander, lemon juice, and salt. Mix them well and simmer for 10-15 mins. or until cooked thoroughly.
9. To stuff the curry pan, take a dough ball, make it a little flat and then put the 2 tbsp of prepared stuffing in the center. Bring close together all the edges and pinch with a twist to seal the stuffing. Similarly, prepare the rest of the curry bread.
8. After that, dip stuffed bread in eggs and dredge into the breadcrumbs. Place these stuffed curry bread onto the greased baking tray keeping some distance between the buns.
9. Bake in preheated oven at 350 degrees F for 25-30 mins. or until become crispy golden brown from the top.
10. Serve the hot Curry Bread after cutting it into slices.