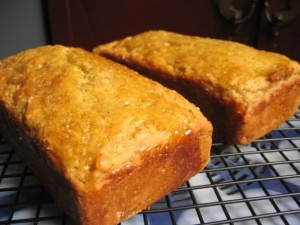 Preparation time : 70-80 min | Serves 10-12 persons
This moist banana bread is topped with lemon sauce hence become soft and moist. The rest of the method and ingredients are almost same as other banana bread except the ratio of ingredients.
Ingredients:
¼ cup margarine (softened)
1 cup sugar
2 large eggs
3 large very ripe bananas (mashed)
1 ½ cup all-purpose flour
1 tsp baking soda
¼ tsp salt
For Lemon Sauce:
1 pack lemon jelly powder
3 cup water
2 tbsp honey
Procedure:
1. Preheat Oven to 350°F.
2. In a mixing bowl, beat margarine and sugar until become smooth and creamy.
3. In another bowl, beat eggs so that egg whites and yolk mixes well and foams are appear on the surface.
4. Now combine mashed bananas, butter mixture and beaten eggs.
5. Sift together dry ingredients including flour, baking soda and salt.
6. Fold this dry mixture with the batter and then pour in a greased and dusted baking loaf pan.
7. Place this baking loaf pan in preheated oven for 50-60 min at 350 degrees F.
8. Meanwhile prepare lemon sauce, for that you need to cook lemon jelly powder, honey, lemon rind and water for 5-10 min at low heat until become slightly thick.
9. When the bread has been done take it out from oven and pour the prepared lemon sauce over it.
photo source : 1