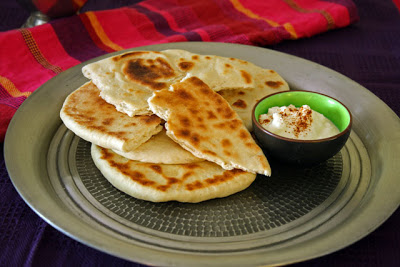 Preparation time : 30 mins + 2hr. setting time | Serves 6-8 persons
Naan is a kind of flatbread and is mostly prepared Indian and Pakistani cuisine. Naan recipe has more or less the same ingredients as used in making dough of pizza. The only difference is in the way it is cooked. It is usually fried on skillet and becomes very soft after frying. Naan(s) is usually served hot and is eaten with dishes like meat, vegetables, curries etc.


Ingredients:


1 kg Plain flour
2 tbspn milk powder
1 tbspn instant yeast
1 tspn salt
1 tspn sugar
3 eggs
Hot water as required
Procedure:
1. In a mixing bowl, mix flour, yeast, salt, egg, sugar and milk powder.
2. Knead the dough using hot water only. The dough should be soft like pizza dough and it requires more effort while kneading. It is better to use your palm for this purpose and press the dough using palm and roll it, repeat these steps again and again until the dough become smooth.
3. Put the dough in a deep bowl and cover it. Leave the dough for at least 2 hr.
4. After 2 hr. make small pieces of dough and roll each dough to make a normal flat size bread of 5-6 inch.
5. Shallow fry each bread one by one on medium heat. Take out the bread when it turn light golden brown in color from both sides.