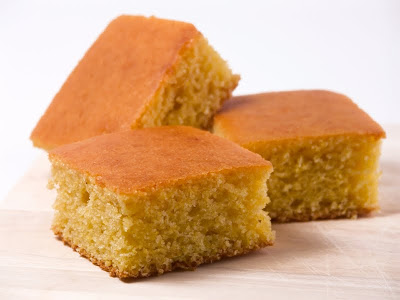 Preparation time : 30 mins | Serves 6 persons
A healthy
cornbread recipe
specially for breakfast which gives you an energetic boost for whole day. Serve this bread with tea or coffee. If you want gluten free cornbread, then you can use whole wheat flour which makes this cornbread more softer and healthier.
Ingredients:
1 cup all-purpose flour
1 cup yellow cornmeal
1/4 cup white sugar
1 tablespoon baking powder
1 cup heavy cream
1/4 cup vegetable oil
1/4 cup honey
2 eggs (beaten)
Procedure:
1. Preheat oven to 400 degree F.
2. Take a large bowl, prepare dry mixture by mixing flour, cornmeal, sugar and baking powder.
3. To make batter, make a well in the center of the dry ingredients and add cream, oil, honey and eggs; gradually slide flour mixture onto the centered liquid portion to combine all ingredients together.
4. When smooth batter would form, pour it into the greased baking pan and bake in preheated oven for 20 to 25 minutes.
5. After that insert a knife edge or tooth pick into the center of bread if it comes out clean then the bread is ready. Cool the bread to room temperature then make slices to serve.