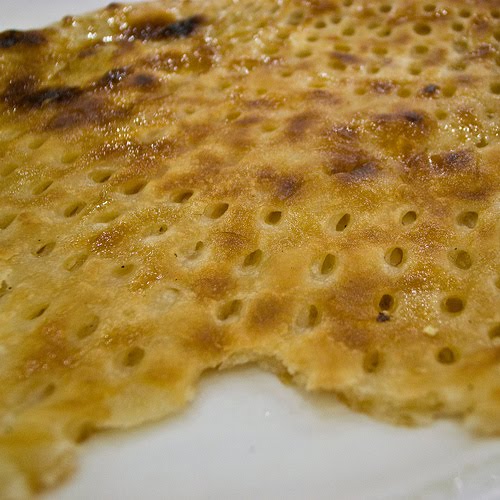 Preparation time : 45 mins. | Serves 6 persons
This sheermal bread recipe is from South Asian cuisine which tastes bit sweet and very soft. It is usually served with traditional meat curry like korma, karahi, etc. The main ingredient of this bread is milk which makes this dough soft and light, you may also use khoya (ricotta cheese) to increase its taste.
Ingredients:
16 oz plain flour
18 gm yeast
40 gm caster sugar
1 eggs (beaten)
1 cup warm milk
100 gm double cream
2 tbsp poppy seeds
225 gm ghee (clarified butter)
1 tsp salt .
Procedure:
1. Make a mixture of lukewarm milk, yeast and sugar. Leave it for 15 mins.
2. Sift together flour and salt in a bowl and add eggs, double cream, half amount of ghee and yeast mixture. Mix them together and make a smooth dough. The bread will become soft of you knead the dough gently like pizza dough.
3. Cover the dough with a damp cloth to keep the dough soft.
4. Now make pieces of 4 inc. diameter each (6-8 pieces may form). Again cover them in a damp cloth and leave for 3-4 hrs.
5. After that roll out each piece to make a round flat shape of thickness 1/2 in. and press the whole dough using fork to make small holes. Brush the bread with ghee and sprinkle poppy seeds over it.
6. Place the rolled bread in preheated oven for 25 mins. at 350 degrees F. When the sheermal become light golden from top then take it out form oven. Check the bread in between baking and if looks dry pour 2-3 tbsp of milk so that bread remain soft.