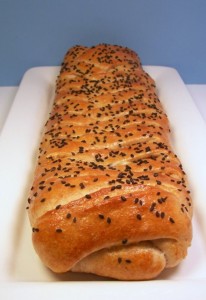 Preparation time : 60 mins. + 1 hour dough resting time | Serves 1 large loaf
This Stuffed Bread Loaf is prepared with Fajita flavor chicken and vegetable mixture and the topping of nigella seeds gives wonderful aroma to this yummy bread. Basically this bread is also known as stuffed pizza bread as all the ingredients of stuffing are same as the topping of pizza.
Ingredients:
For Dough:
4 cup flour
1 tsp salt
1 tbsp sugar
1 tsp baking powder
1 tbsp instant yeast lukewarm water
¼ cup
1 egg
3 tbsp butter
2 tbsp dry milk powder
For Stuffing:
1 kg boneless chicken (cut into small strips)
1 tsp minced garlic
1 tbsp crushed red pepper flakes
1 tbsp crushed cumin seeds
1 tbsp lemon juice
2 tbsp soya sauce
1 tbsp ketchup
4 tbsp oil
½ cup capsicum (chopped)
½ cup mushroom (sliced)
For Assembling:
1 tsp nigella seeds
1 egg white (lightly beaten)
½ cup pizza sauce
½ cup cheddar cheese
Procedure:
1. To prepare dough, dissolve sugar and yeast in lukewarm water and set aside for 5 mins. till become frothy.
2. Combine all ingredients mentioned for making dough and then mix with dissolved yeast and sugar mixture. Knead the dough using tap water till become smooth (use little amount of flour if necessary so that dough would not remain sticky). Place the dough into the deep bowl, cover the bowl with plastic sheet and set aside for at least an hour to raise.
3. Meanwhile prepare stuffing for the bread, heat oil in a pan cook chicken strips with garlic till chicken gets white.
4. Then add seasoning of red pepper, cumin, salt, soya sauce and lemon juice and mix well. Simmer for 10-15 mins till chicken is done.
5. Add tomato ketchup and stir, add capsicum and mushroom and mix them well. Take out the pan from heat and let the mixture cool.
6. When dough rises to double, punch it down using hands and then roll out to make it flat rectangular shape of 1 cm thickness.
7. Place prepared chicken stuffing, pizza sauce and cheese one by one at the center from top to bottom. Now cut the left and right side dough into strips using knife so that fins are formed. Then start wrapping the stuffing using these fins in such a way that place left side strip onto the stuffing then bring right side onto it similarly do this till bottom fins.
8. When stuffing covered properly with the dough fins brush it with egg whites from top and sprinkle nigella seeds on top.
9. Place the dough using careful hands onto the greased baking tray and bake in preheated oven at 350 degrees F for 15-20 mins. till become light golden brown in color.
photo source : 1