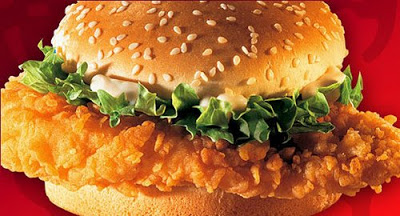 Preparation time : 30 mins (approx.) | Serves 4 persons
Zinger burger is one the favorite fast food of youth specially kids. It is called with this name because of shape of meat piece placed in between the buns. There are usually two types of zinger burgers, Chicken zinger burger and other is Fish zinger burger but Chicken zinger is much more popular. The burger picture shown above is of chicken and it is as good as any fast food burger you have ever had . Also have a look at the book
Recipe of the Week : Burgers
for getting access to secrets and techniques of making a variety of burgers at home.
Ingredients:
4 Burgers
2 Chicken breast (make 4 thin slices of it)
1 cup rice flour
1 cup corn flour
½ cup plane flour
1 tspn mustard powder
1 tspn black pepper
1 tspn salt
½ tspn Chinese salt
1 tspn chicken powder
1 tspn baking powder
2 eggs
Mayonniase as required
4 Salad leaves
4 Cheddar Cheese slices (optional)
Oil for deep frying
Marination:
1 tspn black pepper
1 tspn salt
1 tbspn white vinegar
Procedure:
1. Cut each burger from the center horizontally and heat them for a minute in the oven or microwave.
2. For fried chicken click on the recipe of crispy chicken.
3. Now place a clean salad leaf on one of the side burger coat some mayonnaise (click on the recipe of mayonnaise) and place a piece of crispy chicken on it cover it with side piece of burger.
4. Do the same for other burgers.
Servings:
Serve burgers with ketchup or chili garlic sauce.