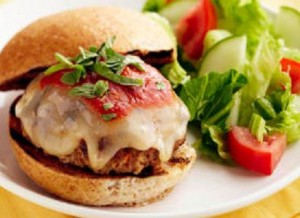 Preparation time : 30 min | Serves 4 persons
This mouth watering pizza burger recipe is prepared by broiling method instead of baking or grilling method. The recipe of beef patties use in the burger is given below but you can replace it with other flavor of patties but to give its look like pizza you should follow the topping as given in this recipe.
Ingredients:
1 lb ground beef
¼ cup grated Parmesan cheese
¼ cup onion (chopped)
¼ cup ketchup
1 tsp salt
1 tsp dried whole oregano
4 hamburger buns (split and toasted)
4 tomato slices
10 ripe olives (chopped)
4 slices mozzarella cheese
Procedure:
1. Ina mixing bowl combine ground beef, Parmesan cheese, onion, ketchup, salt and oregano and mix well.
2. Make patties using above mixture of your bun size and broil it for 10-15 min, turn the patties after 8 min to cook it from other side.
3. Now place each patty over the lower piece of each bun, place tomato slice, cheese slice, olives and top with pizza sauce. Broil it again until cheese melts completely, it would take hardly 5 min, then cover each pizza burger with top piece of bun.
photo source : 1