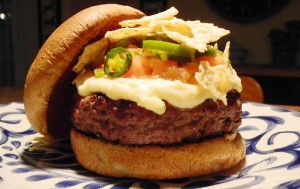 Preparation time : 60 mins. | Serves 4 burgers
This Salsa Burger recipe is prepared with yummy cheese sauce, spicy salsa and corn tortilla chips or nachos. The burger is very rich not only with respect to ingredients but also in taste.
Ingredients:
For Salsa:
3 tbsp apple cider vinegar
1 tbsp vegetable oil
1 chipotle chile in adobo (seeded and minced)
3 plum tomatoes (finely diced)
2 tbsp red onion (finely diced)
3 tbsp chopped cilantro
Salt to taste
For Cheese Sauce:
1 tbsp unsalted butter
1 tbsp all-purpose flour
1½ cup milk
½ lb Monterey Jack cheese (shredded)
2 tbsp freshly grated Pecorino cheese
Salt to taste
Freshly ground black pepper
For Burger Patties:
500 gm boneless chicken breast (cut into cubes)
4 green chilies
3 tbsp chopped coriander leaves
1 tsp salt
1 tsp ginger garlic paste
½ tsp paprika
1/2 tsp white pepper
1 tsp black pepper
½ tsp vinegar
1 tbsp worcestershire sauce
2 tbsp soya sauce
1 tsp mustard paste
¾ cup breadcrumbs
1 medium onion (chopped)
½ egg (lightly beaten)
For Assembly:
4 hamburger buns (split and toasted)
Sliced pickled jalapeños
Blue corn tortilla chips
Procedure:
1. Combine all ingredients of salsa in a bowl and mix well. Cover and refrigerate for 15 mins.
2. To prepare cheese sauce, melt butter in pan, add flour and stir well for 1-2 mins.
3. Then add milk and whisk well to make smooth paste and cook till gets thick.
4. After that add seasoning of salt and pepper along with cheese; Jack and Pecorino. Cook for 1-2 mins. then remove the pan from heat.
5. For burger patties recipe click here.
6. Now to assemble burger, place patty at one piece of burger, pour cheese sauce, spread 1-2 tbsp of prepared salsa and then top with tortilla chips and jalapeno. Serve immediately.
photo source : 1