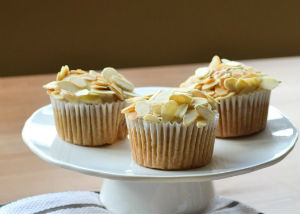 Preparation time: 40 mins. | Serves 12-16 cupcakes
This Almond Cupcake Recipe can be easily prepared at home. In this recipe, almond essence is used to give almond flavor instead almond flour or chopped almonds which taste great. Similarly, you can prepare different flavors of cupcakes using the same recipe just by replacing almond essence with your favorite flavor.
Ingredients:
4 large eggs
6 oz sugar
1 stick butter
2-3 drops of almond essence
6 oz cup flour
1½ tsp baking powder
For Frosting:
4 oz icing sugar
2 tbsp butter
1 drop of almond essence
2 tbsp cold water
¼ cup roasted almonds (sliced)
Procedure:
1. Beat eggs in a stand mixer bowl, until become fluffy and light. It would take 5-8 mins. at high speed.
2. Add butter, sugar, and almond essence and beat again for 3-5 mins. to make the creamy and foamy batter.
3. Sift together flour and baking powder and add it gradually to the batter, keep the beater speed low while mixing.
4. When the batter becomes smooth, pour it into cups of greased and dusted cupcake pan.
5. Bake in preheated oven at 350 degrees F for 20-25 mins. until the knife inserted comes out clean from the center.
6. Meanwhile, prepare frosting for the cupcakes, for that you need to whisk together icing sugar, butter, almond essence, and cold water so that a thick creamy batter would form.
7. When the cupcakes are done, cool them to room temperature, then take them out from the pan and apply frosting on top of each cupcake. In the end, spread some roasted sliced almonds on top and serve.
photo source : 1