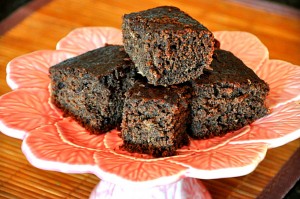 Preparation time : 45-50 mins. | Serves 16 bars
This applesauce brownies recipe is another delicious flavor of brownies for brownie lovers. The method of preparing these brownies is more or less similar to other brownies and can be made it tempting by adding some topping of nuts and icing sugar with glaze.
Ingredients:
¼ cup butter
¾ cup sugar
1 egg
1 cup flour
1 tbsp baking cocoa
½ tsp baking soda
½ tsp ground cinnamon
1 cup applesauce
Procedure:
1. Take a large mixing bowl and cream together butter and sugar until light and fluffy.
2. Add in egg and beat to just mix them well.
3. Sift together dry ingredients including flour, cocoa, baking soda, and the cinnamon, then add this dry mixture gradually to the egg mixture.
4. When the batter becomes smooth, stir in applesauce. Take a suitable greased baking pan and pour the batter in it, place it on preheated oven at 350 degrees F for 25 mins. or a toothpick inserted
near the center comes out clean.
photo source : 1