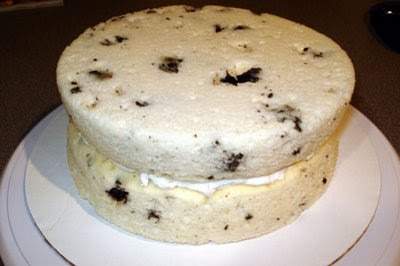 Preparation time : 60 mins | Serves 8 persons
This cake is specially prepared for a party like birthday party as this cake has cookies and cream topping. You can use any kind of cookies you want. For more birthday cake recipes, refer to the book The Birthday Cake Book which contains 75 special cake recipes with attractive and delicious frosting recipes.
Ingredients:
3 eggs
1 1/2 tsp. vanilla extract
1 cup milk
1/2 cup butter
1 1/2 cups granulated sugar
1 tsp. salt
2 tsp. baking powder
2 cups flour
2 cups frozen whipped topping
1 cup broken cookie pieces
whole cookies for garnish
Procedure:
1. In a mixing bowl, beat butter to make it smooth.
2. When butter becomes fluffy, add sugar and beat again so that all the sugar pieces mix well in the butter.
3. Mix dry ingredients together including flour, salt and baking powder.
4. In the butter mixture, add eggs one by one and beat them to mix in the batter and smooth batter would form.
5. After that gradually add dry mixture and mix in the batter so that lumps would not remain inside the batter.
6. In the end, add few drops of vanilla for pleasant smell.
7. Pour the batter into the greased baking pan and place it in preheated oven at 350 degrees for 40-45 minutes.
8. To prepare frosting for cake mix softened whipped cream with crushed cookies.
9. When the cake become ready, cools it to room temperature and then coat the whole cake with cookies and cream frosting.