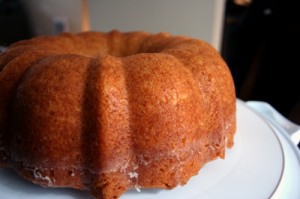 Preparation time : 80 min. | Serves 12 pieces
This butter cake is normally called Kentucky Butter Cake and is prepared with special butter sauce. The sauce makes the cake soft and juicy and hence remains soft for hours. You can give different flavor to the cake for instance you can add fruit cocktail in the batter to make it rich and juicy.
Ingredients:
3 cup all purpose flour
1 tsp baking powder
1 tsp salt
½ tsp baking soda
1 cup butter
2 cup sugar
4 eggs
1 c buttermilk
2 tsp vanilla extract
For Butter Sauce:
1 cup sugar
¼ cup water
½ cup butter
1 tsp vanilla extract
Procedure:
1. Preheat oven to 350 degrees F.
2. Sift together dry ingredients including flour, baking powder, baking soda, and salt.
3. In a large mixing bowl, cream butter and sugar for 8-10 min until become light and creamy.
4. Add eggs one by one and beat after each addition.
5. When batter becomes fluffy, add buttermilk and vanilla and mix well.
6. Now gradually add dry mixture and mix using wooden spatula until become uniform batter.
7. Pour the batter in a greased bundt pan and bake for 50-60 min until become done.
8. Meanwhile prepare butter sauce for that in a sauce pan combine sugar, water and butter and bring to boil over low heat, stirring in between until sugar is dissolved.
9. After that add vanilla, and then remove pan from heat.
10. When cake become ready, poke small holes using spoon or knife on top of cake and then pour the prepared butter sauce over the hot butter cake. In the end, sprinkle some icing sugar on top and serve after 15 min.
photo source : 1