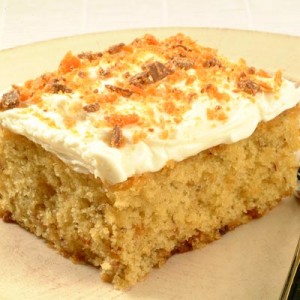 Preparation time : 50 min + Setting time | Serves 6 persons
This Butterfinger cake is prepared with pecan cake mix which you can replace with your favorite cake mix. You may also divide cake into two layers and spread butterfinger candy bars over the inner layer to make it crunchier. Whatever variations you can do with that it as flavors are concerned but the whole method will remain same and is no doubt one of a delicious cake recipe.
Ingredients:
18 oz butter pecan cake mix
8 oz sweetened condensed milk
15 oz caramel syrup
4 large Butterfinger candy bars
8 oz cool Whip

Procedure:
1. Prepare cake mix batter according to the package instructions.
2. Pour the batter in suitable rectangular baking dish and bake in preheated oven for 35 min at 375 degrees F.
3. Let it cool to room temperature then poke holes over it using fork. Make a mixture of condensed milk and caramel syrup and pour half of this mixture over the cake and let it chill for 20 min so that it would soak well from inside.
4. After that cover the entire cake with cook whip, spread remaining condensed milk mixture over the top of cool whip layer and sprinkle Butterfinger candy bars on top. Cool it for at least 2 hrs. until sets completely then cut it into square pieces before serving.
photo source : 1