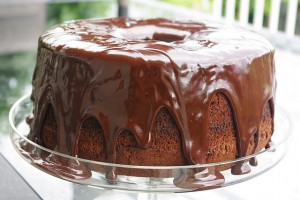 Preparation time : 90 min. | Serves 8 persons
This chocolate chiffon cake is one of a tempting cake recipe for any special occasion like Christmas or it can also be a good one for you valentine party when it is topped with some beautiful sugar sprinkles, nuts and candies.
Ingredients:
For Cake:
7 eggs (separated)
½ cup baking cocoa
½ cup canola oil
¾ cup boiling water
1¾ cup cake flour
1¾ cup sugar
1½ tsp baking soda
1 tsp salt
2 tsp vanilla extract
¼ tsp cream of tartar
For Icing:
1/3 cup butter
2 cup confectioners' sugar
2 oz unsweetened chocolate (melted and cooled)
1½ tsp vanilla extract
4 tbsp hot water
Procedure:
1. Preheat oven to 325º F.
2. In a small bowl make smooth paste of cocoa and water and cool it to 20 min.
3. Sift together flour, sugar, baking soda and salt.
4. Take another mixing bowl, whisk egg yolks, oil and vanilla till become smooth.
5. Gradually add dry ingredients along with cocoa mixture and whisk until well blended.
6. In another large bowl beat egg whites and cream of tartar on high speed until stiff peaks form.
7. Fold the egg whites into the egg yolk mixture carefully so that the batter remain foamy and fluffy.
8. Now pour the batter into a greased pan. Gently tap the pan to remove air from the batter and bake in preheated oven for 60 – 65 min or until knife inserted comes out clean.
9. Meanwhile prepare icing, melt butter in a saucepan then remove from heat and stir in remaining ingredients of icing. The sauce would get smooth and slightly thick texture.
10. When cake has been done, take it out from oven, cool it to room temperature and then drizzle the prepared sauce over it.
photo source : 1