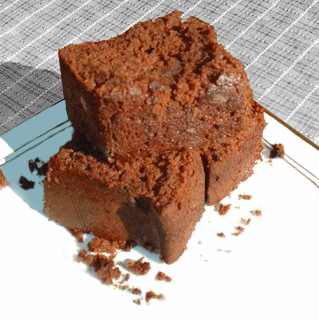 Preparation time : 45 | Serves 8 persons
This is a different chocolate cake prepared with mayonnaise and hence you don't need to use butter and egg in making this cake. The cake becomes too soft and spongy because of mayo and flavor of coco enhances its taste. You can do lots of variation in this cake for example you may add chocolate chips or instead of chocolate you can also add another fruit flavor to this cake.

Ingredients:
2 cups all-purpose flour
1 cup granulated sugar
3 tbspn cocoa powder (or according to your taste)
1 tspn baking powder
1 tspn baking soda
1 cup mayonnaise
1/2 cup water
1/2 cup milk
1 tspn vanilla extract
Procedure:
1. Preheat oven at 350 degree Fahrenheit.
2. In a mixing bowl, beat mayonnaise and sugar using electric beater for 3-4 mins until sugar mixes well in the mayo. In the beginning keep beater at slow speed and then gradually increase the speed as it becomes smooth.
3. Mix dry ingredients together in another bowl including flour, baking powder, baking soda and coco powder. It is preferred to sift all of them after mixing so that every ingredients mixes well and no air would remain in the mixture.
4. Add milk, water and vanilla essence to the mayo batter and mix using beater.
5. Now add dry flour mixture into the batter and mix using spatula or beater.
6. Pour the batter into a suitable baking pan and place it in preheated oven at 350 degree Fahrenheit for 25-30 mins.
7. Take out the the baking pan from the oven when it is done and cool it to room temperature then serve the delicious chocolate mayonnaise cake with tea or coffee.