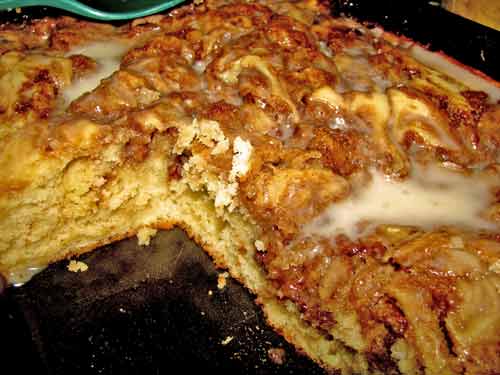 Preparation time : 60 mins. | Serves 8-10 persons
This Cinnabon Cake Recipe is one of a delicious cinnamon cake prepared with sugar frosting. It is prepared in three steps; first vanilla cake batter is prepared then cinnamon batter is topped onto the vanilla batter and then bake. In the end, sugar glaze frosting is drizzled on top, which adds extra flavor to the cake. You may also use cream cheese frosting to make it richer in taste.
Ingredients:
For Cake:
3 cup flour
¼ tsp salt
1 cup sugar
4 tsp baking powder
1½ cup milk
2 eggs
2 tsp vanilla
½ cup butter (melted)
For Cinnamon Topping:
1 cup butter (melted)
1 cup brown sugar
2 tbsp flour
1 tbsp cinnamon
For Glaze:
2 cup powdered sugar
5 tbsp milk
1 tsp vanilla
Procedure:
1. In a stand mixer bowl, beat together milk, eggs and vanilla until well combined.
2. Sift together dry ingredients including flour, salt, sugar and baking powder.
3. Add the dry ingredients to the vanilla batter and mix at low speed until become smooth. Then add melted butter and mix it well using spatula.
4. Take a greased and dusted rectangular baking dish, pour the batter into the dish and set aside.
5. Now to prepare cinnamon topping, combine butter, brown sugar, flour and cinnamon until well combined.
6. Spread this mixture onto the cake batter and give marble texture using fork.
7. Place the dish in preheated oven at 350 degrees F for 30-40 mins. or until tooth pick inserted comes out clean from the center.
8. Meanwhile prepare glaze for the cake, combine powdered sugar, milk and vanilla and make uniform paste.
9. When the cake is done, cool it to room temperature and then drizzle the prepared glaze on top.
10. Cut the cake into bars and then serve the delicious Cinnabon Cake.
photo source : 1