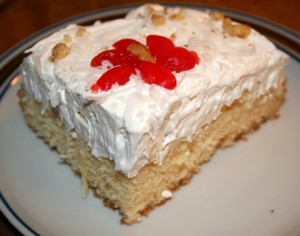 Preparation time: 60 mins. + Refrigeration time | Serves 8-10 persons
Hawaiian Dream Cake is nothing but a variation of a party cream cake. For making this cake you need a plain yellow cake and prepare yummy frosting by using cream cheese, pineapple, instant pudding mix, and milk. The whole difference is its unique frosting which makes this cake more delicious than all the other cream cakes.
Ingredients:
5 cups yellow cake mix
2 eggs
1¼ cup lukewarm water
20 oz crushed pineapple (drained and reserve juice)
8 oz cream cheese
3 oz instant vanilla pudding
1 cup cold milk
9 oz cool whip
Nuts and coconut for topping
Canned cherries for topping
Procedure:
1. In a large mixing bowl, beat eggs at high speed to make them frothy.
2. Slowly add cake mix and mix at a slow speed until becomes smooth. Then add warm water to attain the consistency of a plain cake batter.
3. Pour the batter into the greased and floured 9×13 rectangular cake pan and bake in preheated oven at 350° F for about 35 mins. or until the knife inserted comes out clean.
4. Meanwhile the cake is baking, prepare the topping by mixing together vanilla pudding mix, cream cheese, and milk. When all these ingredients combine well to form a thick frosting then fold crushed pineapples into the frosting and refrigerate.
5. When the cake is done, cool it to room temperate then pour the reserved pineapple juice and leave it for 5 mins. in fridge.
6. After that, spread the prepared cream cheese frosting on top and level it using a spatula or knife then make another layer of cool whip, and in the end place some canned cherries and sprinkle chopped nuts. Chill for at least 30 mins. or until the frosting is set.
7. Serve the delicious Hawaiian Dream Cake after cutting it into bars.