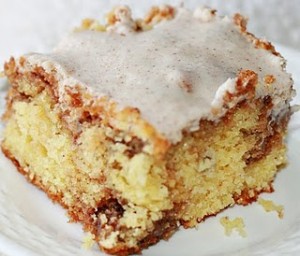 Preparation time: 60 min. | Serves 6-8 persons
This honey bun cake recipe is one of rich cake that can be served as tea time snack or taken as complete breakfast. You can also use some other nuts in addition with pecans to make it more rich cake.
Ingredients:
For Cake:
1 box plain yellow cake mix
1 cup sour cream
¾ cup vegetable oil
4 large eggs
For Filling:
¼ cup honey
1/3 cup brown sugar
3 tsp cinnamon
1 cup finely chopped pecans
For Frosting:
2 cups confectioner's sugar
1/3 cup milk
1 tsp vanilla
Procedure:
1. Preheat oven to 350 degrees F.
2. At first beat eggs in a large mixing bowl until become fluffy.
3. Add sour cream and oil and beat again until become creamy batter.
4. Now gradually add cake mix to the batter and mix well.
5. Pour the batter into the greased baking pan.
6. In another bowl combine filling ingredients and then spread it over the cake batter.
7. Using knife edge swirl the filling into the batter and then bake in preheated oven for 40 min or until becomes done. Mix all ingredients together for cake.
8. Meanwhile baking, prepare frosting for the cake, for that you need to mix all the ingredients mentioned for frosting and make thick creamy paste.
9. When cake is done take it out from the oven and drizzle the prepared frosting over the honey bun cake.
photo source : 1