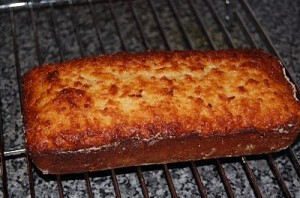 Preparation time : 90 mins. | Serves 6-8 persons
This Macaroon cake is one of the best tea time cake. Its base is quite similar to the normal cake except addition of almond flavor but its extra almond sauce topping makes the difference which make the cake delicious.
Ingredients:
6 oz butter
6 oz caster sugar
5 oz flour
1 oz almonds ground
1 tsp heaped baking powder
½ tsp almonds essence
3 eggs
For Topping:
3 egg whites
6 ounces caster sugar
4 ounce almonds ground
¼ tsp almonds essence
Procedure:
1. Sift together dry ingredients including flour, baking powder and ground almonds.
2. Take a mixing bowl and cream together butter and sugar till become light.
3. Add in egg one by one and beat after each addition, then fold it nicely with the dry mixture and add almond essence.
4. Then pour the mixture into the greased baking pan and bake in preheated oven for about 40 mins. at 350 degrees F.
5. Meanwhile prepare topping, for that you need to mix together egg whites, caster sugar, ground almonds, almonds essence in a pan and mix wel. Cook the mixture over low heat stirring continuously with a wooden spoon. When mixture starts bubbling remove immediately from heat and cool it to room temperature.
6. When the cake is done, pour the prepared topping over it and re-bake for 30 mins. again at 325 degrees F. When the cake become brown from top take it out from oven.
photo source : 1