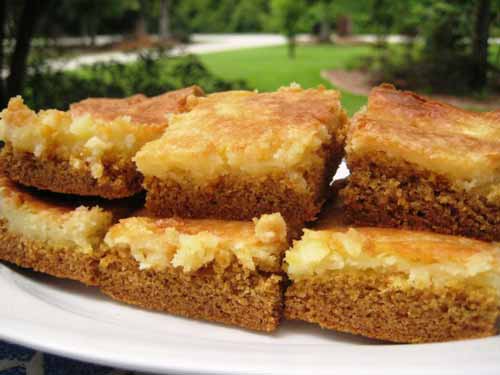 Preparation time: 60 mins. | Serves 8 persons
This Ooey Gooey Butter Cake Recipe is another awesome recipe of Ooey Gooey style. It is prepared with two layers baked together; one is yellow cake and the other is cream cheese batter. Both of these flavors combine to give a delicious cake the best to serve with tea.
Ingredients:
5 cups yellow cake mix
1 stick butter (melted)
3 eggs
1 cup cream cheese (softened)
3 cups powdered sugar
Procedure:
1. In a mixing bowl, combine cake mix, melted butter, and one egg.
2. Take a greased 13×9-inch rectangular cake pan, and pour the cake mix batter into the pan.
3. In another bowl, beat cream cheese until becomes fluffy and light.
4. Add remaining eggs and beat again to mix, then gradually add powdered sugar and mix until becomes smooth.
5. Pour this batter over the cake mix batter and then bake in preheated oven at 350 degrees F for about 30-40 mins. or until the toothpick inserted comes out clean from the center.
6. When the cake is ready, cool it to room temperature so that the cream cheese topping sets well, and then serve after cutting it into slices.