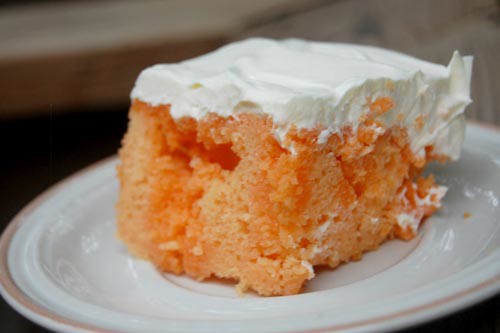 Preparation time : 50 mins. + Refrigeration time | Serves 8 persons
This Orange Creamsicle Cake Recipe is prepared with some delicious flavors of orange cake, orange jello and creamy vanilla pudding. You can prepare this creamsicle cake with other flavors too like strawberry, banana or mango.
Ingredients:
1 pack yellow cake mix
3 eggs
1/3 cup oil
1 cup orange juice or orange soda
1 pack orange jello
1 cup boiling water
1 pack vanilla pudding
1 cup cold milk
16 oz cool whip
Mandarin orange slices for topping
Procedure:
1. First, prepare orange cake sponge by mixing together cake mix, eggs, oil and orange juice.
2. Pour this batter into the greased cake pan and bake in preheated oven for 30-40 mins. or until it is done.
3. When cake is ready, let it cool for 5 mins. then transfer it into the serving dish.
4. Now poke the cake for making some holes using skewer.
5. Dissolve orange jello in boiling water and pour it onto the cake. The jello mix easily absorb into the cake due to the holes.
6. Now in a mixing bowl, whisk together pudding mix and milk and make it smooth, then fold the pudding mixture evenly with cool whip using spatula.
7. Spread the pudding mixture over the cake and make it even using spatula.
8. In the end, top the orange creamsicle cake with some mandarin orange slices and refrigerate for 30 mins. to set.
photo source : 1