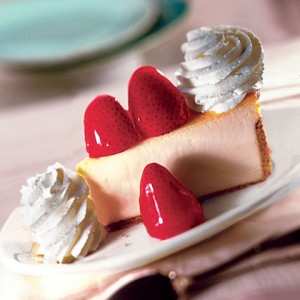 Preparation time : 1 hr + 45 min | Serves 8 persons
This Original Cheesecake Recipe is inspired from one of the famous US restaurant The Cheesecake Factory which is popular for its cheesecakes specialty. This recipe is taken from Ron Douglas's best selling cookbook America's Secret Recipes (get 5 sample recipes) that contains hundreds of copy cat recipes of many popular restaurants in U.S.
Ingredients:
For Crust:
¼ cup pecans (fine chopped)
¼ cup walnuts (fine chopped)
¼ cup almonds (fine chopped)
¾ cup crushed vanilla wafers
2 tbsp melted butter
For Filling:
1½ lb cream cheese
1 1/3 cup sugar
5 large eggs
16 oz sour cream
¼ cup all-purpose flour
2 tsp vanilla extract
2 tsp lemon juice
Procedure:
1. In a mixing bowl combine all the ingredients mentioned for crust and make soft crumbs. Transfer the mixture into the greased springform pan and press it tightly to make smooth crust at base.
2. Place it in refrigerator to set the crust.
3. Now prepare filling for the cake, take a mixing bowl and beat cream cheese at low speed until gets fluffy.
4. Then add sugar make beat at medium to make thick creamy batter.
5. After that add egg one by one and beat after each addition, then add vanilla extract and lemon juice and mix well.
6. Pour this batter over the crust and place in preheated oven on the top rack at 325 degrees F for 70-80 min.
7. After that remove the cake from oven and refrigerate until chill well then serve with your desire topping.
5. To get more copycat recipes of restaurant foods, refer to the cookbook America's Secret Recipes (get 5 sample recipes).
photo source : 1