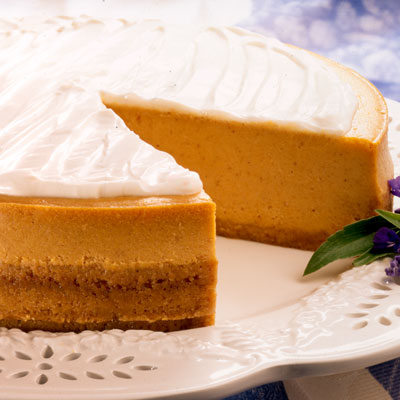 Preparation time : 90 mins. | Serves 8 persons
This pumpkin cheesecake is more or less similar to other baked cheesecake except cream is used as frosting instead of using it in the batter. You may also use condensed milk instead of sugar which also gives good taste.

Ingredients:
1 1/2 cups graham cracker crumbs
5 tbsp butter (melted)
1 cup sugar
3 cup cream cheese (softened)
1 tsp vanilla
1 cup canned pumpkin
3 eggs
1/2 tsp cinnamon
1/4 tsp nutmeg
Whipped cream (For frosting)

Procedure:
1. Preheat the oven to 350 degrees F.
2. Mix the cracker crumbs with melted butter and make a base of these crumbs in a spring form pan. Leave it in microwave for 2 mins until sets.
3. Now prepare batter for pumpkin cheesecake, for that cream sugar, vanilla and cream cheese.
4. After that add pumpkin, eggs, cinnamon and nutmeg and beat again until become smooth and creamy.
5. Now pour the batter over the crust and bake it for 60 mins. When the cake become light brown from top take it out from oven and cool it to room temperature.
6. Make topping of whipped cream for the pumpkin cheesecake and then serve it after chill it in fridge.