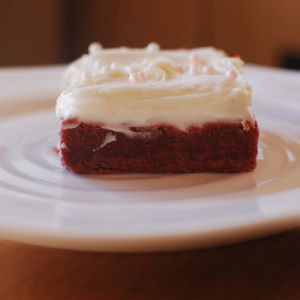 Preparation time : 40 mins. (approx.) | Serves 16 bars
These Red Velvet Bars are a kind of sugar cookies, which are presented as frosted bars. The frosting is made with cream cheese and butter flavor, which makes these bars more delicious and tempting. These bars can be presented as a wonderful for Christmas eve.
Ingredients:
For Red Velvet Bars:
8 oz butter (softened)
10 oz sugar
2 eggs
2 tsp vanilla extract
2 tbsp red food color
14 oz all-purpose flour
4 tbsp unsweetened cocoa
½ tsp salt
1 tsp baking powder
2 eggs
2 tsp vanilla extract
2 tbsp red food color
For Cream Cheese Frosting:
16 oz cream cheese (softened)
4 oz butter (softened)
8 oz powdered sugar
1 tsp vanilla extract
Procedure:
1. In a mixing bowl, cream together butter and sugar at high speed for 3-5 mins. or until become creamy and light.
2. Add eggs, vanilla and food color to the batter and beat again to mix them well.
3. Sift together dry ingredients including flour, baking powder, cocoa and salt.
4. Gradually add the dry mixture to the batter and mix at low speed until soft and uniform dough would form.
5. Take a 9-inch rectangular pan, line the inner area of the pan with aluminum sheet and aply some butter on it to grease well.
6. Transfer the dough into the pan and press it to make it even. Bake in preheated oven at 350 degrees F for about 20 mins. or until the edges start to pull away from the sides and toothpick inserted comes out clean.
7. Meanwhile prepare frosting, for that you need to cream together cream cheese and butter, then add sugar and vanilla and beat again till become fluffy.
8. When the red velvet bar is ready, cool it to room temperature and then apply frosting on top.
9. Cut it into small bars and then serve with some topping of sugar sprinkles.
photo source : 1