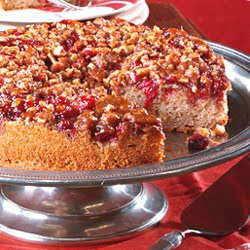 Preparation time : 60 mins | Serves 6 persons
This sour cream coffee cake is prepared with cranberry sauce and pecans which are used at the topping but the interesting thing is that the cake is baked with the topping so the flavor of sauce absorbs well in the cake and when it is served hot it would be very tasty and delicious so that you may easily feel the new combined flavor of sauce pecans and coffee cake.

Ingredients:
225 gm butter
200 gm sugar
2 eggs
1/2 tsp. almond extract
250 gm self-rising flour
2 tsp coffee
1/2 cup warm milk
230 gm sour cream
1 cup cranberry sauce
1/2 cup chopped pecans
Procedure:
1. Preheat oven to 350 degrees.
2. Take a large mixing bowl to beat butter and sugar together so that a creamy mixture would form.
3. After that add eggs one by one and beat well to make a fluffy mixture.
4. Make a mixture of coffee and milk so that coffee would completely dissolve in it.
4. Now add coffee mixture, sour cream and almond extract to the batter and just mix.
5. In another bowl stir flour and then add it gradually to the mixture and mix using spoon or flat spatula so that no lumps would be there.
6. Take a suitable greased baking pan and pour batter into it. Drizzle some cranberry sauce with chopped pecans on to the top of batter and place the baking pan in preheated oven for 40 mins. After that take it out from oven and slightly cool it at wire rack.