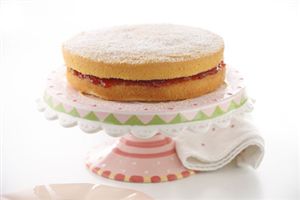 Preparation time : 40 min. | Serves 8 persons
This Victoria Sponge cake is prepared with raspberry jam filling and topping of confectioner sugar instead of cream topping which makes this cake a tea cake. You can also use another fruit flavor jam for filling or add some heavy cream for filling to make this cake more delicious.
Ingredients:
150 gm unsalted butter (softened)
1 cup sugar
3 large eggs (lightly beaten)
1 ½ cup all-purpose flour
1 ½ tsp baking powder
¼ tsp salt
1 tsp vanilla extract
1 tbsp warm milk
½ cup raspberry jam (or any fruit jam)
Confectioner sugar for topping
Procedure:
1. Preheat oven to 350 degrees F.
2. In a large mixing bowl, beat together butter and sugar until become creamy in texture, it would take 8-10 min at high speed.
3. Sift together dry ingredients including flour, salt and baking powder.
4. Now alternately add beaten eggs and dry mixture to the butter mixture at medium speed until become smooth batter.
5. Add vanilla extract and 1 tbsp warm milk to the batter and mix well.
6. Take a greased 9-inch round baking pan and pour the batter into the pan. Bake for 20-25 min in preheated oven until become light golden from top or tooth pick inserted in the center comes out clean.
7. After that cool the prepared Victoria sponge at room temperature and then cut from the center horizontally. Spread evenly the raspberry jam on the top of base piece and put the second piece on it.
8. Sprinkle confectioner sugar at top of the cake and then serve by cutting it into pieces.
photo source : 1