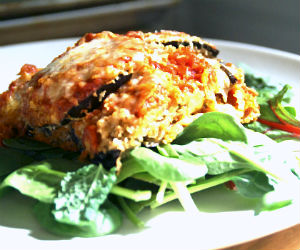 Preparation time: 1 hr. 45 mins. | Serves 6 persons
This Baked Eggplant Parmesan Recipe is very much similar to the typical Eggplant Parmigiana except for a few differences. In this recipe eggplants are baked first instead of frying and marinara sauce is used between layers in place of tomato sauce. Continue reading to learn the full recipe.
Ingredients:
3 eggplant (cut into thick slices)
1 tbsp salt
3 eggs (lightly beaten)
8 oz box panko bread crumbs
1 tsp Italian seasoning
26 oz marinara sauce
16 oz mozzarella cheese (thinly sliced)
½ cup grated parmesan cheese
¼ cup fresh basil (chopped)
Procedure:
1. First coat the eggplant slices with salt, put these slices into the colander, and fix it in the sink or in a deep pan. Place a heavy pan onto the eggplant slices in order to release all the excess moisture. Leave the eggplant in this way for 30-45 mins. then rinse with cold water and dry with a paper towel.
2. Mix bread crumbs with Italian seasoning, dip eggplant slices in egg then coat with breadcrumbs. Line these coated slices onto the greased baking dish, use cooking spray to grease the slices from the top, and then bake in preheated oven for 10 mins. at 400 degrees F.
3. Turn the slices after 10 mins. and bake again for 5-10 mins. until becomes golden brown.
4. After that remove the baking dish from the oven and reduce the oven temperature to 350 degrees F.
5. Take a rectangular baking dish; spread some marinara sauce at the base just to cover the bottom of the dish. Line half of the baked eggplant slices over the sauce, and then start making layers of marinara sauce, mozzarella, and parmesan on every eggplant slice.
6. Line the remaining eggplant slices on each stack and repeat the layer pattern of marinara, mozzarella, and parmesan. In the end, sprinkle basil on top and then bake uncovered for 30 mins. until cheese melts completely and starts bubbling.
photo source : 1