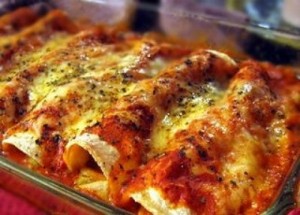 Preparation time : 70 min. | Serves 6 persons
This cheese enchiladas recipe is another mouth watering recipe with enchiladas which looks like a cheese casserole but tortilla rolls make it different form traditional casseroles. You may also top this enchilada with chopped veggies which also tastes good.
Ingredients:
2 cup grated cheddar cheese
2 cup grated Monterey jack cheese
12 corn tortillas
1 tsp garlic powder
½ tsp salt
1 tsp cumin
For Sauce:
2 tbsp oil
1 small white onion (minced)
2 garlic cloves (minced)
2 tbsp chili powder
½ tsp oregano
1 tsp cumin
½ tsp salt
3½ cup tomato sauce
Procedure:
1. Prepare stuffing for tortilla rolls by combining half quantity of each cheese, garlic powder, salt, and cumin; set aside.
2. In a sauce pan sauté onion and garlic for just 2 min until become soft.
3. Add tomato sauce, chili powder, oregano, cumin, and salt to the onion and simmer for 30 min until sauce gets thick.
4. After that pour half of the sauce into the casserole dish of suitable size.
5. Heat oil for frying tortillas in a wok and fry each for just a min and then spread them over the sauce.
6. Then stuff each tortilla with prepared cheese mixture and roll up the enchilada and place them on the casserole pan over the sauce.
7. Pour reserved enchilada sauce over the rolled tortillas and top with remaining cheese. Place the dish in preheated oven for 20-30 min at 350 degrees F until cheese starts bubbling and becomes light brown from top.
photo source : 1