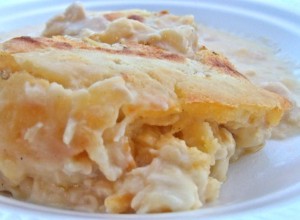 Preparation time: 40 mins. (approx.) | Serves 6-8 persons
Chicken and Dumplings Casserole is one of the delicious casserole recipes in which dumpling rises to the top leaving the creamy chicken underneath. The dumplings are made with different methods, in most of the recipes like the one shown below, baking mix or Bisquick is used with milk which results in a dumpling shape. While in some other recipes only self-raising flour is used to make so.
Ingredients:
1 stick butter
1 medium onion (diced)
2 stalks of celery (diced)
3-4 cups shredded chicken
2 cup Bisquick or baking mix
2 cup milk
1 can cream of chicken soup
1 cup chicken broth
Salt and Pepper to taste
1 tsp fresh parsley (minced)
Procedure:
1. Heat butter in a pan, sauté onion and celery with a little bit of salt and pepper until become soft. It would take 8-10 mins.
2. Then spread the cooked vegetables with butter onto the base of the 9×13 casserole dish.
3. Spread all the shredded chicken onto the vegetable layer.
4. Combine milk and Bisquick in a mixing bowl and slowly pour it onto the chicken.
5. Then in another bowl, combine chicken broth and cream of chicken soup and mix them well.
6. Pour this mixture onto the chicken mixture, sprinkle some seasoning of salt and pepper, and bake in preheated oven at 350 degrees F for 25-30 mins. or until the top is golden brown.
7. When the casserole is done, the doughy part rises to the top.
8. Serve the delicious Chicken and Dumpling Casserole with mashed potatoes and a topping of fresh parsley.
photo source : 1