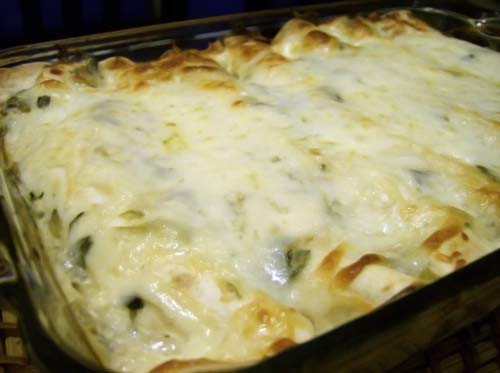 Preparation time : 60 mins.(approx.) | Serves 6-8 persons
This Green Chile Chicken Enchiladas Recipe is a creamy casserole prepared mainly with special Green Enchilada Sauce. This recipe also includes the Green Enchilada Sauce Recipe so that you can easily prepare this recipe at home. You can use this sauce in making other recipes also including pizza or pasta.
Ingredients:
For Green Enchilada Sauce:
2 tbsp oil
2 medium onions (finely chopped)
2 garlic cloves (minced)
3 tbsp flour
¼ tsp cumin
¼ tsp black pepper
2 cup chicken broth
1 cup green chilies (seeded and diced)
¼ tsp dried oregano
½ tsp salt or to taste
1 medium jalapeno (finely diced)
For Tortilla Filling:
2 cup cooked shredded chicken
8 oz green chile enchilada sauce
1 cup sharp cheddar cheese (shredded)
4 oz green chilies (diced)
1 tbsp fresh cilantro (chopped)
½ cup sour cream
10 oz cream of chicken soup
Salt and pepper to taste
For Assembling:
8 oz green chile enchilada sauce
1 cup sharp cheddar cheese (shredded)
8 medium sized tortillas
Procedure:
1. To prepare green enchilada sauce recipe, heat oil in a saucepan and saute onion and garlic in it for about 3-4 mins. until onion becomes soft.
2. Add flour in the onion and gently stir and cook evenly so that flour would turn into golden and pleasant aroma starts to come.
3. Now slowly add chicken broth and stir the mixture constantly so that onion and flour mixture mixes well with the broth.
4. When the mixture starts bubbling, add remaining ingredients of sauce and simmer for 10 mins.
5. When the sauce gets thick enough to fold around spoon but even has drip off consistency, then remove the pan from heat.
6. Blend the sauce if you want to get silky smooth sauce.
7. Now to prepare filling, combine all the ingredients of filling and mix well using fork.
8. In order to assemble the green chile chicken enchiladas, warm the tortillas in microwave for 30 sec or over skillet.
9. Take a piece of tortilla, drop 2-4 tbsp of prepared filling at one of a side and start rolling till reached to other side.
10. Place the prepared rolls in a casserole dish, spread the green enchilada sauce over the rolls and spread remaining cheese on top.
11. Place the dish in preheated oven at 400 degrees F for about 20-30 mins. until cheese melts completely and becomes golden brown from top.
12. Serve the hot green chili chicken enchiladas with toping of fresh cilantro.
photo source : 1