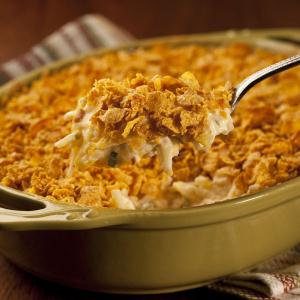 Preparation time : 50 mins. | Serves 8 persons
This Hash Brown Casserole Recipe is one of a delicious casserole which is full of creamy and cheesy flavor with potatoes. In this recipe Italian herb seasoning is used to give it some awesome aroma otherwise in most of the region it is prepared without the seasoning.
Ingredients:
½ cup margarine (melted)
1 lb country-style frozen hash browns (thawed)
¼ cup green onion (chopped)
¼ cup chopped parsley
2 tsp Italian herb seasoning
½ cup sour cream
1 cup shredded cheddar cheese
½ can condensed cream of chicken soup
1 cup crushed corn flakes
Procedure:
1.Preheat oven to 350 degrees F.
2. Grease the casserole dish with ¼ cup of melted butter.
3. In a mixing bowl combine hash browns, green onion, sour cream, cheese and soup in a large bowl along with the seasoning of herbs.
4. Pour this mixture into the greased casserole dish and bake uncovered for at least 30 mins.
5. Meanwhile combine remaining melted butter with corn flakes and spread it over the baked hash brown mixture and bake for further 15 more mins.
Note:
To prepare hash brown at home, take 2 lb of large potatoes, peel them and shred. Spread them onto the greased baking tray and bake for 10-15 mins at 400 degrees F or till become little dry or lightly browned. You may make patties of the shredded potatoes and then bake or cook over skillet.
photo source : 1