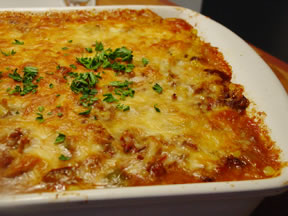 Preparation time : 100 min. | Serves 6 persons
Recipe tamale pie is just like a casserole which is prepared with an extra layer of tamales at the base. In this yummy recipe sauce is prepared with tomatoes and some veggies which you can replace with salsa to save your time.
Ingredients:
12 tamales (shucked)
1 3 lb cooked chicken (shredded)
1 onion (chopped)
1 clove garlic (minced)
14 oz cream corn
½ cup green peppers (chopped)
2 tbsp olive oil
16 oz tomato sauce
4 oz ripe olives (chopped)
2 tbsp chili powder
½ lb cheddar cheese (grated)
Procedure:
1. Take a casserole dish and spread tamales at the whole base of dish.
2. In a skillet sauté onion, garlic and green peppers for just 2 min.
3. Add tomato sauce, olives, chili powder and corn to the sauté vegetables and cook for further 2-3 min until sauce starts bubbling.
4. Spread chicken over the tamales and then pour prepared sauce over chicken. In the end top with cheese and bake at 300 degrees F for an hour until cheese starts bubbling and turn into golden brown from top.
photo source : 1