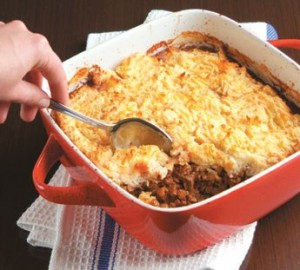 Preparation time : 45 mins. | Serves 4 persons
This Shepherd's pie recipe is prepared with ground beef, mashed potatoes and carrots and becomes good. You can make changes in this recipe for instance you may add seasonal veggies and minced chicken and add seasoning according to your taste.
Ingredients:
1 lb lean ground beef
2 tbsp all-purpose flour
1 tbsp chili garlic sauce
¾ cup beef broth
4 large potatoes (peeled and cut into cubes)
1 tbsp vegetable oil
1 tbsp butter
1 tbsp finely chopped onion
1 onion (chopped)
½ cup shredded cheddar cheese
Salt and pepper to taste
5 carrots (chopped)
Procedure:
1. Preheat oven to 350 degrees F.
2. Boil potatoes and carrots for 15-20 mins until become tender completely.
3. Then drain all the water and mash them separately.
4. Now in mixing bowl combine mashed potatoes, butter, onion, salt, pepper and half of cheese and make smooth dough of mashed potatoes.
5. Sauté onions in oil for just 1-2 mins, add ground beef on medium high heat until all the water released from beef would get dry and turn into brown in color.
6. Add flour to the beef and cook for 1-2 mins until all flour fold well with the beef.
7. After that add chili garlic sauce and beef broth and simmer for 5-10 min after boil.
8. Now take a casserole dish and spread the ground beef mixture at the bottom. Make a layer of mashed carrots and mashed potato mixture on the ground beef and top with remaining cheese and place in preheated oven for 20-15 min until become golden brown from top.
photo source : 1