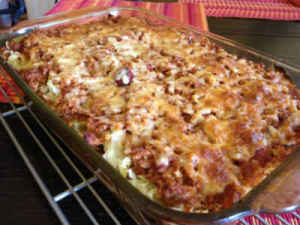 Preparation time: 60 mins. (approx.) | Serves 6 persons
This Stuffed Cabbage Casserole Recipe is prepared with ground turkey mixture and fried cabbage. Irrespective of its name, the cabbage is used in the chopped form and then layered with turkey mixture. You may call this an Un-Stuffed Cabbage Casserole. You may prepare it by stuffing the turkey mixture into the cabbage leaves and then baking it with tomato sauce and cheese.
Ingredients:
2 tbsp olive oil
1 bunch of garlic (pressed and peeled)
1 large onion (finely chopped)
1 lb ground turkey breast
1 tsp Hungarian paprika
½ tsp ground caraway seeds
½ tsp thyme
3-4 fresh red tomatoes (skin removed and chopped)
2 cup tomato sauce
2 cups cooked rice
Freshly ground pepper to taste
Salt to taste
1 large fresh head of cabbage (coarsely chopped)
½ tsp whole caraway seeds
1 cup mozzarella cheese
Procedure:
1. In a deep saucepan, heat 1 tbsp olive oil and sauté onion and garlic in it for 1-2 mins. just to make them soft.
2. Add ground turkey and stir to cook for 3-5 mins. then add seasonings including paprika, ground caraway, and thyme along with diced tomatoes and tomato sauce. Stir well and cook for high heat until mixture starts bubbling, then reduce the heat to simmer and cook for 15-20 mins. covered.
3. When the turkey cooks well and the mixture gets thick, add cooked rice and mix well.
4. Add salt and pepper according to your taste and simmer for 2-3 mins.
5. Now in another pan, heat the remaining 1 tbsp olive oil and add chopped cabbage with salt and caraway seeds. Stir well and cook over high flame for just 2-3 mins.
6. Take a greased casserole dish, spread half of the cabbage at the base, then make a layer of half of the ground turkey mixture, and spread half of the cheese. Repeat the same layer pattern of the remaining cabbage and turkey mixture. Leave the remaining cheese it will be used later on as a topping. Cover the casserole dish with aluminum foil and place it in preheated oven at 350 degrees F for 30 mins.
7. Then take out the dish from the oven, take off the aluminum foil, and spread the reserved cheese on top, turn on the upper burner or grill of the oven and bake for 3-5 mins. until becomes light golden from the top and bubbly.
photo source : 1